COVID-19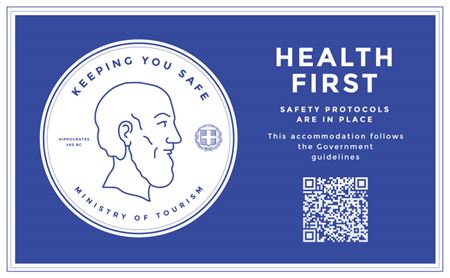 Petra Nova Villas' Safe Stay Program
In Petra Nova Villas, your health and safety has always been our priority.
In view of the COVID-19 ongoing situation, it is considered essential that we ensure a relaxing and safe stay for you and your loved ones. We recommend that all guests visit our website before they arrive.
New measures and protocols regarding the Covid-19 are taken place
Below you will find a comprehensive list of all the key measures to prevent the spread of Covid-19 being implemented at our accommodation. Our measures include:

• Action plan and management of suspected case of COVID-19
• Recorded files with contact details per guest respecting the GDPR rules
• Social distances of at least 1.5m must be maintained by guests and people of PNV
• Rigorous cleaning and sanitisation of guest houses
• Antibacterial hand sanitizers placed in all houses
• Medical kit (for covid-19) available
• We have received thorough training on our enhanced protocols, in addition to               training on identifying any flu or virus-like symptoms
Check-in / Check-out
Check-in and check-out times have been changed: check-out to 11:00 hours and check-in to 16:00 hours.
The added time between each check-out and check-in is necessary to ensure that your house is disinfected between stays, and that the space is adequately ventilated.
Please keep in mind that: all keys are disinfected after each stay.
Housekeeping
Ηousekeeping staff use personal protective equipment and proper uniforms for the cleaning procedure.
All bed linen and towels are washed at a high temperature. Extra bed linen will be at your disposal. Also, extra clean covers are available for the sofas.

Due to the COVID-19 situation and always in compliance with the Health Authorities guidelines the cleaning service is provided only upon guest request declared on arrival. It's very important that guests should not be in the house during the housecleaning.
We perform a thorough cleanup and disinfection using approved products in all room, bathroom and outside surfaces by strictly following EPHO (Greece's National Public Health Organization) protocols. Hand sanitizer liquid is available in each house.
We pay attention to frequently touched items and surfaces such as remote controls, handles and switches. The remote controls are wrapped with a one-use cover and sanitized. Our accommodation has been advised to get rid of decorative objects such as pillows and information booklets. This is why you don't find anymore our collection of literary books.
The fully equipped kitchen is not permitted to provide you anymore with filter coffee, salt, pepper and other spices. But a bottle of our homemade extra virgin olive oil is still at your disposal. You can also taste our family's homemade raki!
The loungers with mattress will be cleaned and covered with your own disposable cover. The loungers without mattress will be disinfected.
Blue towels are offered to be placed on the loungers.
The air conditioning systems are checked, sanitized and cleaned according to NPHO protocols before your arrival.
Medical Kit
A complete medical kit according to Greek Government Guidelines, is available. The kit contains disinfectant wipes, face masks, face shield, thermometer, gloves, protective apron, full-length long-sleeved gown and  waste bag.
Training Program
People of Petra Nova Villas are certified after having followed a training program on COVID-19 protection and preventive measures, safety and sanitization protocols organized by the Centre of Continuing Education and Lifelong Learning of the University of Crete & the School of Medicine of the University of Crete.
Visitors
The villas are for customer-use only. No visitors are permitted.
The Sun, the Sea, the Food and the Landscapes are still here to enjoy!
We are here hoping to see you very soon!